Therapies
Massage therapy
Massage is a treatment that aims to relax, revive and heal the body. Using manual hands-on movements and manipulation of the soft tissues and muscles in the body, massage therapy works to promote healing and enhance a person's overall well-being.
What is a massage?
A massage is the stroking, kneading, rolling, and pressing of the skin and muscles. There are many different styles, each with different origins and aims, but the premise of the treatment is the same - to relax and rebalance the body and to make you feel good.
With more than 250 variations of massage and bodywork therapies available around the world, understandably, it can get a little overwhelming. Below we look at some of the most common forms of massage, to help you learn which type of massage might be right for you.
Types of massage
There are many forms of massage therapy, each with its own benefits. No longer is massage thought of as a luxury, only available to those who can afford it. Treatment is available for anyone, whether for relaxation purposes, sports recovery or pain relief. Below are some massage types to explore.
Choosing a massage that's right for you 
With so many types of massage therapy available, it can be tricky to know what massage you should go for. The type of massage that's best suited to you will depend on what problems (if any) you are experiencing and what you want to achieve.
In this video, massage therapist Laura Dalby explains the different types of massage and their uses to help you decide what type is right for you.
Other types of massage
What might work for one person, may not work for you. Each type of massage will differ in the techniques that are used, so you may benefit from seeking an alternative type of therapy.
Other types of massage include:
Chinese massage
amatsu therapy
infant massage
manual lymphatic drainage
There are a number of other therapies that, while they don't fall under the category of massage, are also designed to promote relaxation, healing and balance in the body, such as reflexology, acupressure, Reiki and Bowen therapy.
What are the four types of massage?
There are four types of massage that are most commonly talked about. These include Swedish massage, deep tissue massage, lymphatic massage, and sports massage. While there are many other types and categories of massage, each offering different benefits for specific ailments, issues, worries, and even different ages, these four are amongst the most common types of massage people talk about.
How much does a massage cost?
Typically, sessions will cost between £25 and £80 per hour. However, the cost of sessions will vary depending on the therapist, location, and the type of treatment. 
---
Finding a massage therapist
When searching for a therapist, it's important that you check they are suitably qualified to practice. For your peace of mind, professionals must meet the requirements of our proof policy before becoming a member of Therapy Directory. This means they must provide proof of qualifications and insurance or membership with a professional body (such as the Complementary and Natural Healthcare Council).
Searching for a therapist can be overwhelming, especially with so many forms of massage available. We encourage all members to fill their profiles with plenty of information so that you can learn as much about the way they work and their experience as possible.

If you feel you would benefit from visiting a massage therapist, you can use our advanced search tool to help. This will allow you to find a therapist near you and, by viewing their skills and expertise, will help you find the best-matched therapist for your specific needs. 
---
Preparing for your massage
Once you've decided on the type of massage right for you, you'll need to find a massage therapist and book a session. But what next?
If you're worried or unsure of how to prepare for a massage, be sure to ask questions. You may have the opportunity to ask questions during your initial conversation, or you may think of questions nearer the time of your session. Whenever the moment occurs, there's no shame in contacting the therapist to ask. The aim of massage is to relax you - if you need to ask a couple of questions for your own comfort, that's OK.
You can also speak to friends and family who have had a massage before but be aware that they may have had a different type of massage, for different reasons.
Of course, the questions you ask will depend on the type of massage you have chosen, and the reasons why you are seeking treatment. However, common concerns include:
What do I wear?
This is a common concern and one that often puts people off the idea of treatment. It can be awkward, not knowing what to expect and indeed, what clothing (and how much of it) you are to wear and what may be removed. The thing to remember is that the therapist is a professional. If you are worried prior to the session, just ask.
Typically, you are required to wear loose-fitting, comfortable clothing for treatment. Some massage types require less clothing (with your modesty protected) while others are fully clothed. 
Will oils be used?
Not all treatments use oils, but if you're concerned or have any allergies, be sure to speak to the therapist before the session. Typically oils are used for two reasons. The first is as a lubricant, aiding in the first strokes and movements of the hand to glide on the skin. The second is to promote relaxation through inhalation of the aromas.
Will it hurt?
The pressure applied will vary depending on the type of massage you are receiving. Deep tissue massage is more intense than a hot stone massage, for example. The therapist will explain what to expect at the beginning, but if during treatment you are uncomfortable or the pressure is too firm, speak up.
It's important to tell the massage therapist prior to the session if you have any medical conditions, are pregnant, or have recently had an injury. This way they can amend the treatment to suit you.
Remember, a massage is meant to be a pleasant experience, so enjoy the moment.

Want more? Read our tips for preparing for your first massage.
Related topics
Would you like to provide feedback on our content?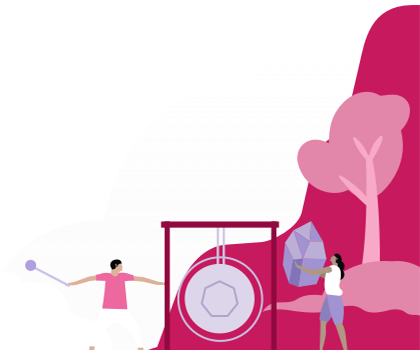 Find a massage therapist near you