About us
At Therapy Directory, we've made it our mission to make it as easy as possible to connect with a holistic therapist and access reliable and informative resources to help you on your well-being journey. Whether you have a health condition that could benefit from a form of therapy alongside medical treatment, or you're simply looking to better your overall well-being. Whatever your reason, know that it is all possible. We want to be the hand to guide you through these first steps to health and happiness.
Our story
Therapy Directory is part of a family of brands, grounded in family values. In 2005, sisters Aimi and Emma launched Counselling Directory, a website dedicated to promoting the benefits of talk therapy. They'd both experienced mental health issues as young women and knew how it felt to be overwhelmed and lacking guidance. They wanted to use their experience to help others find support from counsellors and psychotherapists.
In the years that followed, we launched four other directories - all with the same mission to help people access support to improve their well-being. From counselling and nutrition support to hypnotherapy and coaching, our directories encompass all things health and wellness. These websites are a part of the Happiful family, a network of more than 26,000 professionals working online and across the UK.
Counselling Directory
We connect you with professional therapists in your local area or online, providing the support you need. Explore a wide range of counselling types and their benefits at counselling-directory.org.uk.
Hypnotherapy Directory
Unlock personal growth and transform unwanted behaviours with our professional hypnotherapists. Discover how to address addiction, anxiety, sleep issues and so much more at hypnotherapy-directory.org.uk.
Life Coach Directory
Empower yourself to reach your full potential. Whether seeking advice or exploring our extensive resources, we're dedicated to helping you become your best self at lifecoach-directory.org.uk.
Nutritionist Resource
Gain valuable insights and craft a personalised nutritional plan. Our resource provides information on improving health, addressing various conditions, and promoting overall well-being. Connect with nutrition professionals across the UK at nutritionist-resource.org.uk.
Happiful magazine
We launched Happiful Magazine in 2017 to further our mission of creating a healthier, happier, more sustainable society.
Each issue is filled with guidance, insightful articles, and personal interviews, all aimed at nurturing a sense of positive mental health and well-being. Our commitment to accessibility means you can subscribe to receive the e-magazine for free, shining a light on positivity and support that we believe should be accessible to all.
Proud to be a B Corporation
In 2019, we were proud to become a certified B Corp (Better Corporations). Attaining this certification means that we've proved our business balances purpose and profit; Happiful has met rigorous social and environmental standards which represent our commitment to making the world a better place. Find out more about B Corps and what it means to us.
---
The team
Based in Surrey, our small team of around 40 members works across the well-being directories and the magazine. From our hard-working developers ensuring everything runs smoothly to our award-winning customer service team responding to queries and supporting our members, we're all passionate about what we do.
To date, more 4.6 million people have found support through our resources.
Why choose us?
In our eyes, taking care of your health in a holistic way is the cornerstone of well-being, and we believe everyone deserves access to holistic therapies that work in this way. It's our mission to make this process as easy as possible, giving you the tools you need to remain happy and healthy.
We understand that taking these first steps often takes time, to do the research, find a therapist and make contact - all of which can be daunting if you don't know where to look, or what you're looking for.
To get you started on your wellness journey, we have included everything we wish we'd had access to when taking our first steps to health and happiness, including:
A nationwide database of qualified holistic therapists.
An advanced search tool, which allows you to filter your therapist search according to your needs and location.
Detailed member profiles. Our members pack their profiles full of information including their background, fees, specialities and availability. This allows you to learn more about them and how they work before making contact.
A thorough approvals policy. This means all professionals are checked to ensure they provide evidence of qualifications or membership with a professional body before they can be listed with us. So, you can be sure of contacting a credible professional.
A detailed library of fact sheets featuring useful information about the various therapies available. Here you can learn more about how these types of therapies can benefit you on your journey.
An FAQs section that looks to answer any questions you may have.
Additional resources, such as events to further your learning, and expert articles written by professionals about holistic healing and well-being.
---
Get in touch
We wouldn't exist without you, the individuals seeking happiness and the therapists who share our dream of helping others. It's because of you that we feel it's so important to keep listening and acting upon your feedback.
If you have something to say about the site, a suggestion to make or an experience to share – please don't hesitate to get in touch. We'd love to hear from you.
And, if you have any queries about how to use the website or how to become a member, please visit our Not sure where to start? page.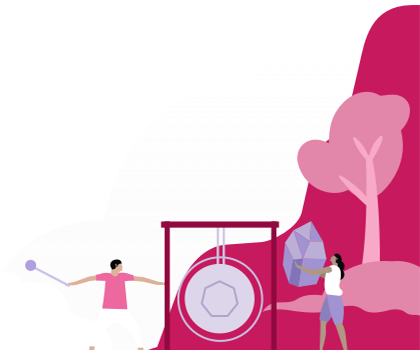 Find the holistic therapist for you