Therapy FAQs
Deciding to seek holistic therapy is a great step in your journey towards taking better care of yourself.
Our FAQs are designed to give you an insight into what complementary and alternative therapies involve, and what to look for in your chosen therapist. If you need further help, please don't hesitate to contact our customer services team for more information.
What is holistic therapy?
Holistic therapy, also referred to as complementary and alternative medicine (CAM), refers to a variety of practices that are not currently considered to be part of standard health care. Standard health care is often called 'conventional medicine' and is used by medical doctors and other health professionals.
Although 'complementary and alternative' is often used as a single term, there is a clear distinction between the two therapies:
Complementary therapies are called this because they are used alongside conventional medicine to 'complement' and enhance standard health care. For example, acupuncture may be offered to help to ease the unpleasant side effects of breast cancer treatments such as hot flashes, nausea, vomiting and pain.
Alternative medicine, on the other hand, is often used instead of conventional medicine - especially in circumstances where other methods have proven unsuccessful.
In many cases, complementary and alternative medicine is delivered in the form of integrative care. This means conventional medicine and complementary therapies are used alongside one another in a coordinated way - often delivered by a team of health professionals from both fields. For example, in the case of cancer care, patients may be offered complementary programmes such as massage therapy to help manage their stress and create an overall sense of well-being.
When might complementary therapy be useful?
Alternative and complementary therapies are widely used by individuals who feel they are not responding particularly well to conventional medicine, and are looking to try something different - either alongside their standard medical care or as an alternative.
Others may be attracted to the 'holistic' element of complementary and alternative medicine. This refers to how therapy aims to address not only a particular ailment or issue but also the entire person as a whole - helping people to achieve and maintain good psychological, physical and social health.
Ultimately, only you can decide whether alternative or complementary therapy will be useful. Our site offers lots of advice and information to help you make the most informed and beneficial decision. Take a look at our Therapies page to explore a range of CAM treatments and their uses.
Does everyone respond to complementary therapy?
It is not always possible to determine how each person will respond to complementary therapy and more concrete evidence is needed to support its use. Despite this, many have found complementary and alternative therapy to be highly effective, either when used in tandem with conventional treatment or when used independently.
An important thing to remember before trying complementary and alternative therapy is that you need to be fully committed to the process and feel that you can place your trust in your therapist.
Are therapists/practitioners regulated?
As it stands, the majority of alternative and complementary therapists are not currently regulated in the UK (with the exception of chiropodists, osteopaths, chiropractors and physiotherapists). This means there are no laws in position outlining the level of training and experience required in order to practise complementary or alternative therapy.
However questions are frequently raised across the UK and the world regarding public health risk and whether or not the current regulation system, or lack thereof, is good enough to protect the public.
A common regulatory option used among alternative and complementary therapists today is voluntary self-regulation. This is when a single professional body without statutory status, registers a therapy. The association cannot protect its title or force practitioners to join, but it is required to mimic that of a statutory regulator - enforcing its own code of ethics, complaints procedure and minimum standards among its members.
How can I be assured of a practitioners' professionalism?
Our verification process ensures that we only list therapists who have provided proof of a relevant qualification and insurance cover or proof of registration with a professional body. Once a therapist has been through our verification process, we will display a policy seal that you can see pictured to the left - as an indication of their professionalism.
What is a professional body?
There are various professional bodies (also known as member organisations) that have taken on the role of self-regulation within the complementary and alternative therapy industry. While therapists are under no legal obligation to join a professional body, membership does mean they have met certain requirements set by their professional body and must abide by a code of ethics and complaints procedure.
If you are worried about a complementary therapist's professionalism, we would recommend choosing one that belongs to a professional body. It's simple to find a therapist who belongs to a professional body - just visit our Advanced search, enter your location and tick the 'Member of a professional body' box before hitting 'Search'.
For further information please see our Professional bodies page.
What is registration/accreditation with a professional body?
Being registered/accredited with a professional body means that an alternative or complementary therapist has achieved a substantial level of training and experience approved and recognised by their professional body. If a CAM therapist has achieved this status, we will display a registered/accredited badge on their profile page.
How do I know which therapist to choose?
Therapy Directory lists thousands of complementary and alternative therapists nationwide, so we understand that with all of the choices available, it might be difficult to decide what you want and who you'd like to go and see.
If you'd like some pointers on what to look out for during your search, take a look at our Not sure where to start? page, which provides a useful bird's eye view of the website for those who haven't quite found their way around just yet.
Do therapists offer any seminars, workshops or events?
Many complementary and alternative therapists do offer services in the form of seminars, workshops and events.
If you're considering complementary therapy or if you have a general interest in the subject, our event finder lists workshops, qualifications and seminars covering a broad range of topics that are held up and down the country by our complementary and alternative therapists and practices.
To find out what is going on near you, see our events page.
Can I have holistic therapy sessions at home?
Some therapists will offer at-home sessions, where they travel to your home to carry out the session. They will have their own equipment but may ask you to ensure you have anything you need to help you feel comfortable. Some people prefer treatments at home as it takes away travel time and it can help them feel more relaxed. Others may find it difficult to switch off and prefer going into a different environment.
If you want to try an at-home session to see if you like it, you can use our advanced search tool. Simply select 'home visits' before filling in the other fields and you'll see which therapists offer this service.
Can I have holistic therapy sessions online?
While some holistic therapies typically require in-person contact, more and more therapists are adapting their practices and are able to offer online sessions. These will usually involve video calling and carrying out the treatment virtually. Each therapy will work slightly differently so, to get inspired, take a look at these holistic therapies you didn't know you could have remotely.
To find therapists that offer online sessions, simply select 'online' on our advanced search tool before filling in the remaining fields.
How much does holistic therapy cost?
There are many holistic therapies available in the UK, and the cost for each one is based on a number of different factors. As a very rough guide, you could expect to pay around £1 per minute for the expertise of a qualified, insured professional. Of course, this will vary depending on the treatment type and your needs.
Whether you consider a holistic treatment affordable or good value is down to your budget and expectations. So, you might want to consider what it is that you are seeking from holistic therapy, to work out how much you are willing to spend on treatment.
Is this a one-off, luxury treat? Or is this something you are looking to maintain as part of your regular self-care regime? If it's the latter, you may be interested in looking for a therapist who offers packages, where you pay upfront for a certain number of sessions at a reduced cost.
If you have any queries about the costs involved, don't hesitate to contact your chosen therapist to find out more. Many are happy to have a chat to tell you more about their services and how they can help.
Can I get complementary and alternative therapy on the NHS?
There are some complementary and alternative therapies available on the NHS, but these may not be widely available and the majority of practitioners tend to work privately. You will need to discuss the option of complementary therapy with your health care provider who can inform you of the availability in your specific area. Currently, among the most common complementary therapies available on the NHS are chiropody, osteopathy, acupuncture and massage.
How can I find out more about holistic therapy?
Many alternative and complementary therapists listed on our site provide articles which you may find useful. You may also be interested in various other areas of the site, such as our Therapies section, which contains detailed information on the various alternative and complementary therapies available.
How can I train to become a therapist?
Making the decision to become a holistic therapist can feel overwhelming when you discover the number of training courses available. To help you shift back to the excitement, we've put together a training page with a few pointers on what to look for in a course and professional organisation. We've also listed some training affiliate organisations that run courses that will enable you to join Therapy Directory once completed to help get your business off to a flying start.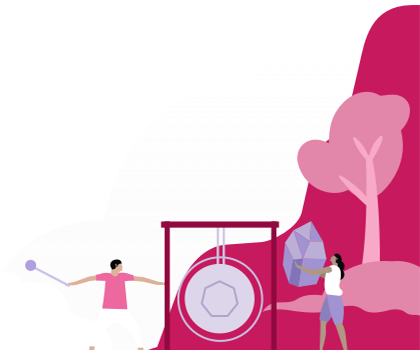 Find the holistic therapist for you