Aromatherapy
8 aromatherapy scents for relaxation
Extracted from plants, essential oils form the basis of holistic treatment called aromatherapy – a means of evoking different feelings in the body through our sense of smell. And while a particular scent isn't going to make your problems magically disappear, it is possible to utilise our sense of smell to induce calm, soothe stress, and help you feel more in control.
The limbic system of our brains, which is connected to our sense of smell, is associated with memories and emotions – including anxiety. And this makes a lot of sense when you think about it; how often does a certain smell evoke a nostalgic feeling or prompt you to recall a person, a moment, or a feeling?
Aromatherapy enables us to harness this power of scent to support our overall wellbeing, with benefits ranging from helping to lift your mood, to easing aches, aiding sleep, and promoting calm. And when it comes to the latter, particular scents can encourage us to be in the moment, and relax.
We're sharing eight soothing superstars to help you get started.
---
8 scents for ultimate relaxation
Valerian
Scent: musky, woody
Known to have sedative properties, valerian oil is used around the world to aid sleep, and is also believed to help with headaches.
Lavender
Scent: fresh, floral
Probably the most notorious essential oil for those seeking calm, with numerous studies showing its benefits, lavender helps to soothe the nervous system, which can help with relaxation and sleep.
Bergamot
Scent: citrus, fruity, sweet
Believed to help lower cortisol levels, bergamot's aroma may be a good addition for stress relief and promoting relaxation.

Camomile
Scent: crisp, sweet, fruity
The gut-mind connection is well-known, with this oil reported to help with digestive problems, as well as supporting our nervous system to encourage harmony in the body.

Ylang-ylang
Scent: slightly sweet, spicy, floral
Working with the parasympathetic nervous system, ylang-ylang helps to lower your blood pressure by reducing your heart rate and breathing. This can be particularly soothing when anxiety strikes and your heart is racing.

Patchouli
Scent: woody, sweet, spicy
Coming from the leaves of the patchouli plant, this oil is believed to help with balancing emotions – prompting the release of serotonin and dopamine (pleasure hormones).

Marjoram
Scent: warm, sweet, woody
Marjoram is reported to support the body's immune system, as well as having calming properties. It's potentially a good choice for massage, as it's believed to help with relaxing muscles.

Rose
Scent: rich floral, slightly spicy
Given the price of a bouquet of roses, it's probably no surprise that this is one of the more expensive oils to explore. However, for those who love the scent, it's believed to have anti-inflammatory properties, as well as promoting relaxation. There are even studies to show it may help those with menstrual pain, bloating and insomnia.
---
Using essential oils safely
Whenever you apply essential oils to your skin, ensure you dilute them by mixing with a carrier oil, which helps to avoid any skin irritation. It's always important to watch for any reactions when you use a new essential oil as well, in case you have any allergies or sensitivities.
---
An essential oil blend for peace
5 drops bergamot
3 drops patchouli
2 drops ylang ylang
Add this mix to an oil diffuser to slowly release the aroma around your home, or add to a carrier oil in a rollerball container in order to put on pressure points on your body.
The mood-lifting blend of bergamot balanced with the calming patchouli offers a relaxing and rejuvenating scent to help when you need a moment of peace to ground you.
---
This article was originally published in Happiful Magazine. You can order print copies online, or read the e-magazine for free on the Happiful app.
What blend is right for you? Explore the benefits of aromatherapy with a qualified aromatherapist.
This article was updated on 01/02/23
Share this article with a friend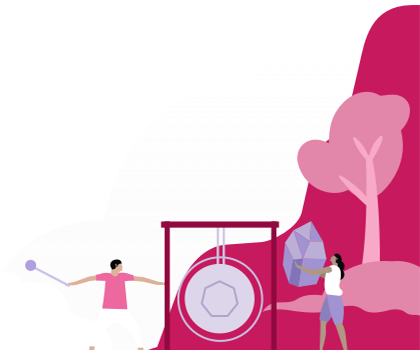 Find a therapist dealing with Aromatherapy