>

Massage for pregnancy - wellmother (online livestream...
Massage for pregnancy - wellmother (online livestream option available)
20th September 2020, 10am - 5pm
Shiatsu and Thai MAssage Training Scotland (STMTS), Standard Buildings, 94 Hope Street, Glasgow, G2 6PH
About this course
Available online as a live stream for anyone who needs to self isolate.
One Day Pregnancy Massage Skills course:
We explore comfortable positioning and effective techniques to give massage safely in low-risk pregnancy for second and third trimester. If you attend the One Day Pregnancy Massage Skills course and wish to go on to specialise and attend the following four-day course, you will receive a discount when you register.
Who is the course for?
This course is for professionally qualified therapists and bodyworkers.
Costs
One Day Pregnancy Massage Skills: £90 (you receive £50 discount on the cost of the 4-day specialist course if you go on to attend within a year of attending the One Day Skills course. You can choose whether or not to repeat the Skills day).
Specialist diploma next dates are 25th-28th March 2021.
The full four-day diploma course is special because it is the only UK course that qualifies you to work confidently during all trimesters, during birth, and post-natally, and to identify risks and know how to work with them.
What you'll learn
You'll learn to be confident with IVF pregnancies, and you'll be able to show skills to partners to use during childbirth. In particular, you'll learn to understand the energy changes during pregnancy and childbirth and to be able to appropriately integrate Shiatsu skills into your existing massage practice.
It is one of the most rigorous pregnancy massage qualifications in the world. Recognised by APNT, Embody (30 CPD points), FHT and other organisations worldwide including IMTA in Ireland. 

Graduates of all types of Well Mother training courses are welcome to come along for revision purposes. Discount available please enquire.
For full information visit this website.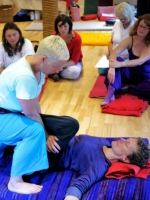 Shiatsu & Thai Massage Training Scotland offer a variety of courses in traditional eastern therapies & Mindfulness, and also Well Mother pregnancy specialisations for therapists and midwives.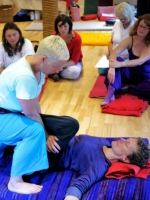 Hosted by

Shiatsu & Thai Massage Training Scotland