About us
I'm Claire Paphitis - a fully qualified Ayurvedic Consultant trained by one of the foremost Ayurvedic Doctors in Europe, Dr Deepika Rodrigo. I studied with Dr Deepika at the highly respected Ayurveda Institute UK, where I graduated with High Distinction. I am also the author of 'Balance Your Agni - Essential Ayurveda' due out in August 2020 with Ebury Press/Penguin Random House.

In creating The Ayurveda Coach, I wanted to provide patients with a trusted place they could turn to for Ayurvedic advice and healing. Following a consultation you will receive expert treatment: a personalised nutrition and lifestyle plan tailored specifically to you - along with a prescription for specialised ayurvedic herbs / oils or tonics to support your body on its path to restored health and balance.
If your quality of life is being affected with a particular ongoing disorder, if you are anxious, not sleeping well, struggling with your weight, with menopause or menstrual symptoms, skin conditions such as eczema or psoriasis, bloating or IBS - Ayurveda can help. If you are fed-up of feeling less than your best and of masking symptoms with drugs, read on.
Ayurvedic medicine is the world's oldest holistic healing system. It has been used for over 5000 years to cleanse and restore balance to the body and mind and to heal and prevent disease.
Rather than treating an isolated set of symptoms or masking them with medication. At the Ayurveda Coach I treat the whole person - by considering all aspects of their life, environment, history, work, diet, lifestyle and quality of sleep.

AYURVEDA IS SUCCESSFUL IN TREATING A WIDE RANGE OF CONDITIONS INCLUDING:

Allergies
Asthma
Insomnia
Digestive issues/IBS
Fatigue
Stress
Infertility
Menstrual problems
Menopause symptoms
Low libido
Anxiety
Joint & back pain
Skin conditions - Eczema/Psoriasis
Weight loss & Diabetes
Training, qualifications & experience
I studied under Dr Deepika Rodrigo at the Ayurveda Institute UK - achieving a High Distinction.
I also hold a Bachelor's Degree and Master's degree in Music and hold sound bath events using crystal sound bowls. Please contact me for info on the next event.
My commitment to Ayurveda and to being able to help alleviate the pain and suffering of others means I am currently continuing my studies further to the advanced practitioner level.
I am able to treat a variety of skin disorders, hormone or menopause issues, sleep disorders, weight-loss, IBS and digestive issues, stress, fatigue and anxiety.
I am a member of the Association of Ayurvedic Practitioners UK http://www.aapuk.net
and the Complementary Medical Association https://www.the-cma.org.uk
I am happy to provide a free 15 minute phone consultation to patients looking to find out more before going ahead with a full consultation. Please contact me directly by telephone or email or through my website to find out more.
Member organisations *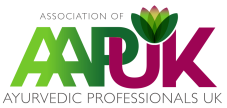 Association of Ayurvedic Professionals UK
AAPUK is a not-for-profit organisation established to raise awareness of Ayurveda for the benefit of the whole human community through public education and other mediums and is dedicated to the support and representation of Ayurvedic Professionals in the UK and abroad.
Therapies offered
Fees
Additional information
One hour consultation on-line or in person in Reigate, Surrey £60
One hour consultation in London £75
Follow-up consultations are 25 minutes and £25 ( these usually take place on the telephone )
Ayurvedic herbs, oils and tonics are prescribed and these are an extra cost of around £10 each for a 3-4 week supply.
Further information
TESTIMONIALS
"I had never heard of Ayurveda until I visited a relative who had consulted Claire.
The first thing that struck me was a) how sparkly and confident my relative was and b)  how much weight she had lost. She told me about Ayurveda and gave me Claire's details. Following several years of intense stress due to divorce, family issues etc.
I had gained a lot of weight, was struggling to get to sleep at night,  waking up
many times during the night and consequently  felt "drugged" and in a fog most days.
My body felt as though it was full of sludge, and full of tummy bloating toxins.
My joints, especially my hip were giving me an increasing amount of severe pain which was becoming a real problem and beginning to affect my ability to do normal things such as go for walks and drive my car. I was needing to spend a penny so often that any journeys had to factor in loo stops - very embarrassing.
I had been consulting an osteopath for my joint and hip pains for several months, and whilst I usually felt a little better on the day, the debilitating pain always
returned within a few days. All in all I was feeling pretty miserable with myself
and not looking forward to life in my old age.
My initial consultation with Claire was a revelation. She is so professional and so easy to talk to. She explained how Ayurveda works  and it immediately all made so much sense! My personalised diet plan was a bit of a shock - nearly all the food
that I had been eating, and that I had thought was pretty "healthy" was not allowed.
No wonder I had felt so rotten!
Ayurveda has enabled me to completely overhaul my diet and my relationship with food.  The herbs are an acquired taste to begin with,  but as you progress they become much more enjoyable and you do actually look forward to taking them - something I never though I would say - but it is true!
Two weeks into the regime and my hip and joint pain had all but disappeared,
which for me is amazing! I can enjoy long walks again on Dartmoor and hills no longer present problems for me. One month on and I have lost over one stone in weight, I am sleeping well, not waking in the night,  and wake up feeling full of energy.  It is not an exaggeration when I say that Ayurveda with Claire's ongoing support has quite literally transformed my life and I cannot thank Claire enough!"

Treen, 60 yrs old - Devon
"Working in a fast paced, stressful job with regular international travel, I met Claire to discuss how to improve my low energy and stress levels, poor sleep and general well-being. I was also feeling very low emotionally after some personal events, but I was able to completely open up to Claire, who was incredibly kind, understanding and professional.
I expected the pitta-pacifying diet to be much harder than it actually was, it just took a little preparation and I easily got into the routine, not even missing the foods I was initially upset about giving up! Claire also shared some delicious recipes with me, which was very helpful inspiration.
It took me approximately 4 weeks to feel the change, but I can assure you it is worth sticking to the plan. The herbs are not the tastiest at the beginning, but they improve quickly, and I now almost crave them as I love the benefits so much!
I feel completely in balance now. I handle the work stress with ease and feel generally calmer at all times. I've lost a little weight, which was an unplanned bonus and I generally feel lighter, happier and more energetic in the mornings. The sleepless nights have completely gone, and I can't thank Claire enough for all the help and support she's given me."
Stephanie, 34 yrs old - London
"Claire's knowledge and guidance is the perfect way to unlock the power of Ayurveda. I sought out Ayurveda to treat longstanding hormonal imbalances that particularly affect my skin with acne. After just 3 weeks I have begun to see a huge improvement in my skin and digestion. After suffering from acne for most of my teenage years (and trying various topical and contraceptive treatments) I can say that beginning to heal my body from the inside in a natural way feels like it will create genuine longterm improvement. Combining Ayurvedic herbs with small lifestyle adjustments feels life-changing in the way I approach self-care and my body."
Manon, 21 yrs old - London
"I was diagnosed with ulcerative colitis in January 2018. My conditions worsened rapidly over the months. My symptoms were quite typical such a bleeding, feeling bloated and tired. I was anxious about the fact that I was not able to control my body. Then I heard about Claire and Ayurverdic treatments and I thought that I had nothing to lose. She made herself available very quickly. She was very thorough in her questions and was cross referencing everything that I was telling her.
She advised me on food and new recipes and gave me a treatment to follow.
The improvement has been remarkable. No more bleeding, feeling bloated
or tiredness…Thank you Claire."
Dianne - Guildford
"I came to see the Ayurveda Coach about a month ago. I found Claire kind, understanding, approachable, and I felt comfortable sharing my health concerns with her. I have experienced insomnia, irregular menstrual cycles and chronic digestive issues since early adulthood, and have visited countless practitioners of Western medicine with little to no effect. Claire prescribed three kinds of herbs and a fairly strict dosha-pacifying diet. Since following Claire's advice I've noticed my hormones balancing and I've been sleeping better—even sleeping through the night sometimes! The digestive issues are still a work in process but Claire has been responsive and encouraging with each development. I look forward to continuing
to work with her."
Emily, 30 yrs old - Brighton
"Claire, the Ayurveda Coach, has made a marvellous difference to my well-being. I consulted her to see if her approach to nutrition would improve my digestive issues following gall bladder surgery and to help me lose the weight I gained after menopause and a hysterectomy. I was very comfortable discussing my personal issues with her and was impressed by her professional manner and extensive knowledge. After following the dietary advice and herbs in my personalised plan,
I have not only lost a stone but have gained lots more energy and I have even
found the confidence to stop taking anti-depressant medication. I can't thank
Claire enough and highly recommend others to see if she can work some magic
for them too!"
Sue, 64 yrs old - W. Sussex
"I came to see Claire to see if she could help with chronic knee pain I had been experiencing for some years. I was taking high doses of co-codamol on a daily basis and was starting to have difficulty climbing stairs. After a few weeks of following Claire's dietary advice and taking the herbal powders the pain has almost completely disappeared along with the swelling around my knees. I am back to being fully mobile again and have a better understanding of how to prevent the condition from coming back in the future. I have no hesitation in recommending her to friends and family - I feel very glad to have found her."
William, 67 yrs old - London