Usui Reiki level 1
Date & Time:
6th January 2019, 10.30am - 4.30pm
Location:
Exact address TBA on booking
Chelmsford
Essex
CM3 1LE
Email organiser
Find out how you can heal yourself, family and friends on a physical or emotional level, with Reiki, a natural healing energy. After completion of the one day course you will be able to combat stress, fatigue, anxiety and aches and pains, with Reiki energy healing.
Join me for a one day Usui Reiki level 1 practitioner course near Chelmsford, Essex.
This indepth course, complete with comprehensive manual for further reading and discovery, will enhance your wellbeing on a physical and emotional basis and lead you on a path to improved self-awareness, inner calm and balance. Discover the power of Reiki energy healing and learn to lessen stress and anxiety, ease aches and pains and improve your sleeping patterns.


You will receive attunements and empowerments.


You will perform a guided reiki treatment and also receive a treatment yourself for healing and relaxation. We will also practice meditation, learn about chakra healing and much more.
Sunday 6th January 2019, priced at £150. Limited availability - or why not learn with a friend?
Please contact info@essexreikihealing.co.uk to book your place. (If you can't make that day, please email for further dates, more available in 2019).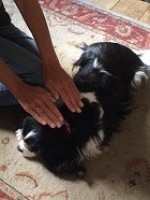 About Jo Hanby
As well as being a Reiki Master and Animal Reiki Master, I am a Qualified Happiness Life Coach and NLP Practitioner, Mindset and Motivational Coach and Intuitive Energy Worker.