>

Thai Yoga Massage Professional Diploma course
Thai Yoga Massage Professional Diploma course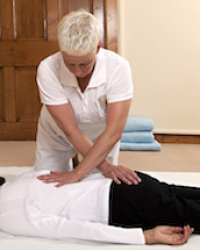 9th October 2021 - 12th March 2022, 10am - 5pm
5/1 The Standard Buildings, 94 Hope Street, Glasgow, G2 6PH
Would you like to become professionally qualified to give relaxing yet deep bodywork in the traditional style of northern Thailand?
Thai Massage Training Scotland offers a unique opportunity to train for a diploma in authentic Thai Yoga Massage in Glasgow, taught by trained teachers who apprenticed with masters from the temples of Northern Thailand. Upon successful completion of the course, you will be competent to give professional level Thai yoga massage and you will be able to secure professional insurance to practise.
In simple stages, you will be shown how to apply a wide repertoire of techniques, ranging from gentle palm and thumb pressure using your body weight effectively, to applying passive stretches and yoga poses to your client confidently. You will have plenty of supervised practise time and will learn about the theory of this ancient healing art; the Sen energy lines, breathing and meditation techniques, and the historical context of the therapy. 
This course includes practical training days, practice classes and online mindfulness (Mindful Based Living Course) sessions delivered between October 2021 and March 2022. 
You will graduate from the course following completion of full attendance on course dates, practical assessment, written project and case studies. You will also have to hold a level 3 in Anatomy and Physiology to practice professionally.
Course Dates
Classes run from 10am - 5pm on Saturday and Sunday on the following dates:
9th and 10th October 2021
13th and 14th November 2021
11th and 12th December 2021
8th and 9th January 2022
12th and 13th February 2022
12th March 2022 (practical assessment)
MBLC Mindfulness sessions are online on Thursdays at 7pm - 9pm from 21st October - 9th December 2021.
Practise classes are held monthly on Saturday at 1pm - 4pm: 23rd October 2021, 27th November 2021, 22nd January 2022, ans 26th Feb 2022 (£15 per class, attendance not compulsory).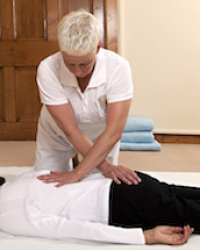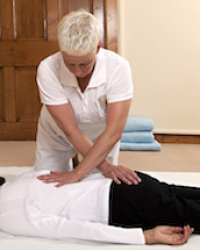 Hosted by Lucy Trend
Lucy Trend, director and principal teacher at STMTS, will be delivering this course. Lucy is a shiatsu therapist, specialist in pregnancy and fertility. She is a doula and a trained well mother teacher, also offering post graduate training courses for complementary therapists, midwives, doulas and OBGs, in massage, shiatsu and moxibustion.