Therapies
Mindfulness
In the busyness of day-to-day life, it can be easy for our minds to get carried away, always focusing on the 'next thing'. Mindfulness allows you the space to come back into the present moment to really connect with how you're feeling right there and then.
What is mindfulness?
According to Mindful.org, mindfulness is the stage where your mind is in tune with your body, surroundings and what is happening in that moment. It's the ability to be fully present and not react or feel overwhelmed by things that are going on around you.
What does it mean to be mindful? 
Being mindful means being self-aware. It's about noticing what's going on in the present moment, but the key is to simply acknowledge it, without judgement or deeper thinking. Allow yourself to just notice that thought and then let it slip from your mind.
---
How does mindfulness work?
Mindfulness works by using different techniques to move your focus away from other thoughts and hone in on the present moment. It's considered to be a type of meditation.
Mindfulness has been practised for thousands of years, stemming from Buddhist philosophy, but it's only in recent years that science has studied its power.
Research suggests that mindfulness has the ability to alter the structure and function of parts of the brain. A study outlined in News Medical Life Sciences suggests that grey matter found in the pre-frontal cortex (the part of the brain responsible for regulating our thoughts and problem-solving) increases after mindfulness practice.
Similarly, Harvard Medical School describe a study conducted in Australia that found that mindfulness can improve attention span. It's also thought that mindfulness slows down the brain's natural stress response (fight or flight) by reducing activity in the amygdala (the brain's emotional and fear processor).
It's important to note that whilst there is a growing body of evidence that supports the science behind mindfulness, research is continuously evolving all the time. What works for one person may not work for others, so it's always recommended to do your own research before trying anything new.
---
What does mindfulness do? 
There are thought to be several benefits for the physical and emotional body through practising mindfulness. The beauty of this meditation is that it is accessible to everyone and anybody can do it. Here are just a few benefits of mindfulness:
Emotional benefits 
The National Institutes of Health notes that mindfulness can benefit our mental health. It can help to reduce stress, and lower anxiety and depression. In turn, mindfulness can help boost self-esteem and confidence.
The National Institute of Health and Care Excellence (NICE) recommends that mindfulness-based practices are used to treat less severe depression. They also recommend that it be offered in workplaces to support employee well-being.
Physical benefits
The Mental Health Foundation outlines that mindfulness can also help people living with hypertension, chronic pain and heart disease. It's also thought that mindfulness practices can lower blood pressure and help improve sleep.
How to practise mindfulness
Mindfulness is an ability that we all hold within us, it's a skill that can be learned. You do not have to be religious or hold any spiritual beliefs to practise mindfulness.
So that you can be sure you're getting the most out of your mindfulness practice, it's recommended to do the following before you begin:
Set aside time to practise. Shorter bursts generally work best, so you could start by setting aside five minutes each day. If you struggle to find time, you could try to incorporate mindfulness into your daily activities, such as when you're taking a shower.
Get comfortable. It's best to practise mindfulness in a space that you feel comfortable in. Try to remove yourself from any distractions. 
---
Mindfulness techniques 
There are a number of ways that mindfulness can be practised, so you can find what works best for you. Below are examples of mindfulness techniques.
Mindful eating 
Mindful eating is about paying attention to the taste, sight, smell and texture of what you're eating and drinking. Try tuning into this every time you have something to eat or drink.
Mindful movement 
When walking, running or however you like to move your body, try paying attention to how your body feels. When you're out in nature, think about how the air feels against your skin, the ground beneath your feet, and the sights that you can see.
Mindful drawing 
When drawing mindfully, rather than focusing on drawing something in particular, focus on the colours and how the pen or pencil feels against the paper.
Find out more about mindful drawing as artist and author, Amy Maricle takes us through some examples. 
Body scan 
A body scan is where you start at the top of your head and move your attention through your body, working your way down to the tips of your toes. As you draw your attention to different areas of your body, focus on the sensations that you experience – is your body warm or cold? Do you feel tingly or relaxed? How does the air around you feel as it glides over your skin?
Mindful meditation 
Mindful meditation involves taking yourself off to a quiet space and just sitting quietly for a while - focusing on your breathing, thoughts and what you can feel in your body and going on around you. If your mind starts to wander, try to bring yourself back to the present.
Many people find that practising yoga or Tai-chi helps with their awareness of their breathing.
These are just a few ways that you can practice mindfulness. It's normal to feel a little overwhelmed about committing to a routine, particularly if you are just starting out. If you're struggling to set time aside, try to incorporate mindfulness into day-to-day activities, instead. This could be as simple as mindfully folding laundry or doing the washing up.
---
Working alongside a mindfulness professional 
If you're looking to get started with mindfulness, you may benefit from having some guidance initially. It can be useful to understand the basics of mindfulness and implement some programs that you can keep coming back to. Working alongside someone can be really helpful in this instance. These can usually be done online or in person. The practitioner will guide you through mindfulness exercises. They're there to simply hold that space for you, allowing you to reflect. To find out more about what you should expect during a session, we recommend speaking to your practitioner directly.
If you'd like to dive deeper into the art of mindfulness, you may also be interested in attending some courses or events. 
Practising mindfulness at home 
Mindfulness can be practised on your own using self-guided resources. This could be through reading books, listening to podcasts, watching videos on YouTube or through apps such as:
---
Useful resources 
Would you like to provide feedback on our content?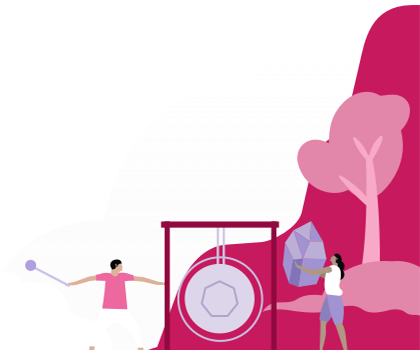 Find a mindfulness practitioner