Pauline Richardson - MFHT, MGHT, Reiki Master/teacher
Nuneaton, Warwickshire, CV10
07787 856900
07787 856900
Nuneaton, Warwickshire, CV10
07787 856900
07787 856900
About me
I am a qualified, insured practitioner. I specialise in
Reiki,
Reiki Teaching,
Reflexology,
Indian Head Massage,
Hopi Ear Candling,
and Crystal healing

I am based at my home, but will consider a home visit if necessary.
Just come and relax in my cosy therapy room!
Please visit:
Training, qualifications & experience
Reiki & Seichem Master/Teacher
Practitioners Diploma in Reflexology
Practitioners Diploma in Crystal Healing
Practitioners Diploma in Hopi Ear Candling/Thermo Auricular

Diploma with Distinction in Crystal Healing
Diploma in Indian Head Massage
Diploma in Anatomy and Physiology
Level 3 Award in Education and Training
National General Certificate in Occupational Safety and Health
Emergency First Aid Certificate
Member organisations

Federation of Holistic Therapists
FHT is the largest multi-disciplinary therapy organisation in the UK and has been representing holistic, beauty and sports therapists for over 45 years.

There a number of different membership categories (including Fellows, Member, Student, Associate and Non-Practitioner) which are dependent on qualifications and experience.

FHT enforce high professional standards, and all Members, Fellows and Student Members are required to follow a strict Code of Ethics and Professional Practice.
Accredited register membership

Accredited Register Scheme
The Accredited Register Scheme was set up in 2013 by the Department of Health (DoH) as a way to recognise organisations that hold voluntary registers which meet certain standards. These standards are set by the Professional Standards Authority (PSA).
This therapist has indicated that they belong to an Accredited Register.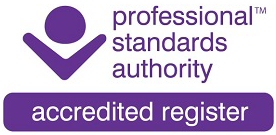 Therapies offered
Other available therapies
Fees
Reiki & Seichem Level 1 and the Violet Flame -£80 (full day 10 - 4:30pm) If you do  Level 1 with me, Level 2 is offered at £50.
Reiki Healing treatment  - £30
Reflexology - £30
Hopi Ear Candle treatment (includes a gentle facial massage/with/without Reiki) - £30
Half hour Crystal Healing treatment - £20
One hour Crystal Healing treatment - £30
Mix and Match - £30
Further information
About Reflexology
Reflexology is based on the principle that reflex points on the soles, tops and sides of the feet are associated with ares throughout the body.
What happens during my treatment?
I will first offer you a relaxing foot bath with a choice of Dead Sea Salts, Himalayan Pink Crystal Salts, relaxing Olive Oil with Peppermint and Rosemary or a relaxing bubble bath.
I will then give you a 45 minute reflexology foot massage while you relax on the couch, fully clothed listening to beautiful soft music.
What are the benefits of reflexology?
Feelings of deep relaxation
Relief from stress, anxiety and tension
Improved mood
improved sleep
A general sense of health and well being
Click on this link to find out more
https://www.therapy-directory.org.uk/articles/reflexology.html
About Crystals

Pure white sunlight contains everything necessary to maintain life on earth. The electro-magnetic radiations flood down onto the earth and infuse everything on this planet. Light energy penetrates into the earth, into the mountains, into caves and into our bodies. This radiation energy is absorbed into the earth and rocks and crystals begin their growth in the darkness using this energy. When we bring crystals out into the light, they reflect the colours of the rainbow. Crystals, as we have learned, are living entities containing the life force which they hold, and can release, once awakened.
Live Science.com (2017) reports that Crystal healing is an alternative medical technique in which crystals and other stones are used to cure ailments and protect against disease. Proponents of this technique believe that crystals act as conduits for healing — allowing positive, healing energy to flow into the body as negative, disease-causing energy flows out.

Reference:
http://www.livescience.com/40347-crystal-healing.html
About Reiki
Reiki is a very ancient healing method, rediscovered at the turn of the century by Dr Mikao Usui in ancient Sanskrit texts, after along and dedicated quest. The texts contained the intellectual knowledge necessary, but Dr Usui had to undergo a near fatal three week-week fasting meditation before he received the healing empowerment of the system.
(Malone A & D 2014) Reiki is holistic; it works on the body mind and spirit by stimulating a person's own natural healing abilities. The blocked emotional and physical elements that lead to illness and disease are cleared. Reiki is neither positive nor negative; it is in fact the highest and most profound vibration of life. Divine in origin, it allows us all to become one with all things alive in our world. Reiki is pure unconditional love and joy bringing all who experience and embrace it principles together in harmony. (Malone, Adele. The Essence of Reiki 1 - Usui Reiki Level 1 Practitioner Manual: The complete guide to the Usui Method of Natural Healing - Level 1 (p. 6). GarryMalone.com Limited. Kindle Edition)
The 5 Reiki Principles
Just for today Do Not Worry
Just for today Do Not Anger
Honour your Parents, Teachers and Elders
Earn your living Honestly
Show Gratitude to every Living Thing
The 5 Energies
Reiki - (Life force Energy working with the other 3)
Sakara - (Fire working with the other 3)
Sophie-el - (Water working with the other 3)
Angelic light - (Air working with the other 3)
The Violet Flame (invoked)
What are Chakras?

"Chakra" is a Sanskrit word literally meaning "wheel."  These centers were named as such because of the circular shape to the spinning energy centers which exist in our subtle etheric body, the non-material energetic counterpart to our physical body.  There are seven main chakras and they are located along the spine extending out the front and back of the body. Each chakra has a number of specific qualities that correspond to the refinement of energy from the base-level material-self identity, located at the first chakras, up to the higher vibration spirit-level awareness of being at our crown. 
These energetic centers represent our highest level of integration split, prism like, into a spectrum of colors. Our opportunity in studying them is to learn how to master each chakra's essence and unite them all into a unified field of brilliance.  As such, we re-unite our disparate parts into a radian light of full self-awareness.

Reference:
http://www.expressionsofspirit.com/yoga/chakras.htm