Kate Kotlarska
BSc (Hons) MBAcC Lic.Ac., Dip Paed Ac, Dip.ITEC
About me
Kate is a fully qualified, licensed acupuncturist and member of the British Acupuncture Council. She completed her four years training at the College of Integrated Chinese Medicine (CICM) in Reading. She completed several postgraduate courses in paediatric, fertility & obstetrics. Kate also studied Holistic and Pregnancy massage at Richdales Institute and is registered with the Complementary Therapists Association (CTHA). She is fully insured to provide the treatments.
As a mother herself, Kate is amazed to see the results that acupuncture treatments had on babies and children. She has completed 2 years Paediatric Acupuncture Course with Julian Scott, as well as a paediatric Five Elements course with Rebecca Avern which expanded her knowledge on the characteristics of Water, Wood, Fire, Earth, Metal Elements that are expressed in children. Kate has also completed  Paediatric Tuina course with Elisa Rossi and Shonishin with Stephen Birch. In her paediatric treatments Kate also uses laser to make her patients comfortable and maximise the results of her treatments.
Each patient is diagnosed as a unique person and treated as such. An individualized plan is designed at the initial consultation. Acpuncture treatment may include acupuncture, laser, acupressure, cupping, moxibustion, electro acupuncture, guasha. Lifestyle changes may be advised and those may relate to patient's diet, sleep, exercises, posture,etc.
Training, qualifications & experience
ITEC Level 3 Anatomy and Physiology 2011.
ITEC Level 3 Diploma in Massage 2012.
CPD Pregnancy Massage  2014
BSc Kingston University - Acupuncture 2015
May 2015 "A comprehensive guide to using Acupuncture in pregnancy labour and postpartum" 2 day seminar with Debra Betts
September 2015 "It takes two: Understanding Male & Female infertility " with Jill Glover
November 2015  "Unravelling the Knots of Endometriosis and PCOS" with Jill Glover
February 2016 "Getting Better at CF" Seminar with Angela & John Hicks
February 2016 "Introduction to Tung Acupuncture" Seminar with Philip Weeks
February 2016 "Tung Acupuncture for some common conditions" Seminar with Philip Weeks
September 2016 British Acupuncture Conference: "Differential Diagnosis and Treatment in pregnancy and birth" by Claudia Citkovitz; "Acupuncture and post-traumatic stress disorder" Naji Malak; "Acupuncture for the treatment of children with autism spectrum disorder" by Jonathan Pledger; "Laser acupuncture in paediatrics: a holistic apporach to allergic rhinitis, atopic eczema and other conditions" by Michael Webber;" Scalp acupuncture from Eastern to Western" by Tianjun Wang
October 2016 "Using Five Elements to help Children Thrive " with Rebecca Avern
June 2017 "Inner library of 5 Emotions" with Kim Chan and Sarah Matheson
August 2017 "The Nada protocol" 2 day seminar with Rachel Peckham, auricular acupuncture suggested for  Stress Management & Substance Misuse.
September 2017 "Cupping therapy in the treatment of Musculoskeletal Complains & Cosmetic Therapy" with Ilkay Chirali
September 2017 British Acupuncture Conference: "Exploring the seven internal and external dragons" by Sarah Matheson, "Using Chinese medicine during seven stages of cancer" by Andrew Flower; "Creative flow of the hand and needle" by Sarh Pritchard
September 2015- May 2017 Diploma course in Paediatric acupuncture with Julian Scott, Rebecca Avern  & Danny Blyth
January 2018 "Needling introduction" with Charlie Buck
January 2018 "Advanced needling techniques" with Charlie Buck
February 2018 First Aid Course with Alex Brazkiewicz
March 2018 Shonishin Paediatric 2 day course with Stephen Birch
May 2018 Paediatric Tuina 2 day course with Elisa Rossi
June 2018 Bloodletting 2 day course with Philip Weeks
September 2018 British Acupuncture Conference: "Causes, diagnosis and treatment of teenage anxiety and depression: an epidemic of our times" by Rebecca Avern;  "Supporting endometriosis and related conditions with acupuncture and TCM" by Dr Nuria Lorite Ayán; "The magical point combination for insomnia" by Amos Ziv
October 2018 2 day course "Practical Clinical Application of Moxa" with Snow Wang
Save
Member organisations

British Acupuncture Council
As the UKs largest professional body of acupuncturists the BAcC guarantee excellence in training, safe practice and professional conduct.

All members of the BAcC (MBAcC) have BSc or BA degree level training or its equivalent in traditional acupuncture, Chinese medicine, and western biomedical sciences including anatomy, physiology and pathology.
Accredited register membership

Accredited Register Scheme
The Accredited Register Scheme was set up in 2013 by the Department of Health (DoH) as a way to recognise organisations that hold voluntary registers which meet certain standards. These standards are set by the Professional Standards Authority (PSA).
This therapist has indicated that they belong to an Accredited Register.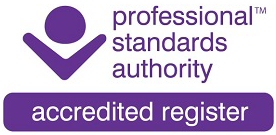 Therapies offered
Other available therapies
Pregnancy Massage
Cupping
Guasha
Moxa
Electro acupuncture
Paediatric acupuncture


Shonishin
Paediatric Tuina
Fees
Additional information

1 Hour Holistic /Pregnancy Massage - £60
Initial Acupuncture consultation £75 ( approximately 1.5 hours)
Follow up Acupuncture treatment £50 (40-60 min)
Initial paediatric acupuncture consultation and treatment £60 (40-60 min)
Follow up Acupuncture treatment for children £30 (20-40 min)
Availability
Monday- Saturday 9.30-15, if those times don't suit you , please contact Kate directly
Further information
Acupuncture
Acupuncture is a form of Chinese Medicine that has been practised for over 2,000 years. It is based on the theory that energy (Qi) flows through the body along pathways called channels. Blockages or unbalances in the flow of Qi can manifest in an illness, pain, emotional disturbances etc. By stimulating acupuncture points along the channels, acupuncturist unblocks or nourishes Qi, which helps to restore balance in the body.
Treatment
Diagnosis is made based on TCM and constitutional Five Elements principles. Appropriate modalities of acupuncture are used: needles, cupping, moxa, gua-sha, tui-na massage, acupressure or electro-acupuncture.

Integrated style of Acupuncture
It is a combination of Traditional Chinese Medicine (TCM) which is used for treating many emotional, physical and mental symptoms and Five Elements Acupuncture which focuses on person's underlying constitution - root of the imbalance
What Acupuncture treats
Some conditions that people seek acupuncture for are: aches & pains, osteoarthritis of the knee, headaches/migraines, lower back pain, over-active bladder. Pregnant women may have acupuncture throughout their pregnancy. Other people choose acupuncture when their bodily functions are out of balance, but they have not obvious diagnosis.
Massage
Holistic massage benefits the "whole": body, mind and spirit.
It takes into account: physical symptoms, psychological, environmental and nutritional factors and the impact they can have on the body. It's a massage that uses some Swedish techniques as well as deeper tissue massage, Thai yoga stretches and delicate lymphatic drainage movements.
Some of the positive effects of holistic massage:
Relaxation of the body, relief from tired, sore, stiff muscles
Relaxation of the mind
Feelings of calm, well-being & balance
Increased clarity of thought & energy level
Pregnancy Massage
During pregnancy woman's body undergoes numerous changes and is constantly adapting to the different stages and demands of pregnancy. Pregnant women can often feel a lot of physical and emotional pressure when they carry a baby, as they are suddenly responsible for the lives and health of two people. Pregnancy Massage involves a combination of techniques such as Swedish massage, Acupressure, Deep Tissue and Indian Head Massage, Shiatsu and Lymphatic Drainage.
Massage can be carried out with woman laying on her side or seated.
Pregnancy massage can be carried out from week 13 of pregnancy onwards. Please refer to my website for contraindications.