Jolie-ann Francis-Chilcott
About me
Specailising in Integrating Energy/Holistic therapies I use over 20 years of training and experience in a range of therapies (E.F.T, Subconscious reprogramming, Reiki, Nutrition, Massage and Holistic bodywork, Healing, Counselling, Energy therapies, Shamanic healing) combined with my natural energy awareness and intuition to support individuals and groups living with the physical and emotional fall-out of 21st century living, such as stress, chronic pain, physical complaints, depression, phobias, anxiety and low self esteem.
Providing empowering sessions that support the individual as they aim to restore the natural balance of their whole system. We are, as beings, amazing multi-dimensional puzzles who deserve a reflective and rounded approach to wellness. Mind, body and emotional health are inextricably linked so adopting an approach that considers and aims to support all elements of well being can be a positive experience.
Many of us lead hectic lives with potential stressors coming at us from many angles. Sometimes the cause of a condition cannot be clearly understood when viewed from a physical basis. So, Whether you present with a bad back or a phobia the best chance for a full recovery is rooted in supporting the whole being…body, mind and soul.


I also provide Reiki training, Energy awareness training, and self-development and meditation workshops, With the hope that I can help others to navigate their way through life in a positive and empowering manner.
Training, qualifications & experience
I have been working in the area of alternative health care since 1995.  My therapy career began with Reiki Healing in 2000 and then the following year (2001) I qualified as a Holistic Therapist and have been working with clients ever since. In 2005 I branched into Energy psychology treatments as I became increasingly aware of the link between mental and emotional states and the effects these have upon the body, this has allowed me to support individuals and groups as they aim to resolve the psychological and emotional components of illness and dis-ease
From having been aware of the "energetic" layer of reality since childhood, I have built on that foundation with formal learning, which has given me a deep understanding of how humans work in all their complexity. As many of the ailments that we suffer do not originate or affect one layer of us, I have realised the importance of working to provide support on many levels to achieve full and lasting healing of even long term, deep rooted problems.
My training in Holistic and Energy Therapies includes .............
Energy Healing
EFT – Emotional Freedom Technique
Subconscious reprogramming
Attachment release
Emotrance
Nutrition
Meditation and deep relaxation
Energy & Spiritual coaching
Reiki
Soul retrieval
Past life therapy
Massage
Aromatherapy
Indian Head Massage
Reflexology
This knowledge of many areas allows me to work with the physical body, the psyche and emotions, the energetic body and the spirit and all the ways these systems combine to create illness, or health.
Through the years of treating clients and providing training, and the ongoing education I have pursued, my practice has developed along with my own self-development. In order to have a proper understanding of what is happening with a client, and how to best help them, I firmly believe that it is essential to have an in depth understanding of myself, I have worked, and continue to work through Yoga, Meditation, Shamanism, Buqi and other disciplines.
Member organisations

Federation of Holistic Therapists
FHT is the largest multi-disciplinary therapy organisation in the UK and has been representing holistic, beauty and sports therapists for over 45 years.

There a number of different membership categories (including Fellows, Member, Student, Associate and Non-Practitioner) which are dependent on qualifications and experience.

FHT enforce high professional standards, and all Members, Fellows and Student Members are required to follow a strict Code of Ethics and Professional Practice.
Accredited register membership

Accredited Register Scheme
The Accredited Register Scheme was set up in 2013 by the Department of Health (DoH) as a way to recognise organisations that hold voluntary registers which meet certain standards. These standards are set by the Professional Standards Authority (PSA).
This therapist has indicated that they belong to an Accredited Register.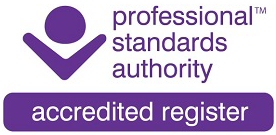 Therapies offered
Other available therapies
Emotional freedom technique (EFT)
emotrance
shamanic healing
subconscious reprogramming
crystal healing
energy healing
soul retrieval
pastlife regressions
energy clearing
telephone sessions
Further information
TESTIMONIALS
Jolie is a truly gifted and compassionate practitioner. Combining the best of energy based approaches to healing with her natural intuitive abilities; Jolie gets the needed results fast. I can't recommend her highly enough to anyone who wants to feel better whether the difficulty is emotional or physical.
Dr. Sam Chromy PhD, C. Psychologist
Somerset
After nearly thirty years of being house bound with acute agoraphobia I was beginning to lose faith that I would ever be able to lead a normal life again, nothing had been able to make even the slightest dent in the debilitating illness that had taken over my life. On recommendation from a friend I decided to give Jolie a go. After an in depth consultation Jolie was able to pin point the root cause of my anxiety, accurately picking up on major events in my childhood that had contributed to my condition and after only the first session I no longer suffered from panic attacks. Jolie showed me how to take control of my thoughts and emotions, release pains and trauma's from my past whilst learning how to make my life work. I now have a full time job, go on regular holidays and have a full and active social life. The changes in my life have been much farther reaching than I could have imagined, I am positive and happy, my weight has stabilised, and all of my relationships have improved, I can hardly remember what used to worry me so much. Thank you Jolie
Susan
Bristol
I cannot thank Jolie enough for the positive impact she has had on my life. I used to be skeptical of Holistic treatments and therapies as a whole but the results I have received from the work we have done together have turned my life around. I now enjoy every day, have strong self-confidence and I'm free from the compulsions that were ruining my life. Jolie, you have changed my life, I couldn't be more grateful.
M Smith - Weston-Super-Mare
About a year ago I went to Jolie for my Reiki I Attunement. At the time I was unsure whether I wanted to learn traditional spiritual healing or Reiki. I am very pleased that I chose Reiki; the attunement was a truly magical experience. A year later I went on to do my Reiki II which I now practice. Jolie is a very special, intuitive, knowledgeable and inspirational Lady and I am very happy that I found her.
S.BEER
SOMERSET
I first met Jolie after searching for an Energy Therapist on the internet, my friend and I decided to have a treatment, Jolie used various techniques with us and was able to accurately pick up on quite a few issues that we both had.
I can honestly say that after the treatment I had never felt so balanced and grounded, my friend and I couldn't stop smiling.
I have continued to have treatments and spiritual development with Jolie and I have learnt so much from her. It was very exciting to meet someone so knowledgeable about energy and spiritual practices.

M.Binnings

Somerset
After suffering with anxiety and panic attacks for many years I decided to give this type of treatment a go. I had no expectations as it was new to me. After the first treatment I felt completely different, after two sessions it had completely changed me. Jolie released the issues from my past and showed me how to control the anxiety rather than it controlling me. Jolie offers a simple approach to each individual and makes you feel very comfortable; she offers excellent treatment methods for a very fair price. What have you got to lose give it a go!!
Scott
Somerset