>

Thai foot massage certificate course weekend training in...
Thai foot massage certificate course weekend training in Glasgow
23rd February 2020, 10am - 5.30pm
£160 or £145 each if two are booking together
STMTS, 94 Hope Street, Glasgow, G2 6PH
Come and learn an authentic Thai Foot Massage routine which, after practise can be performed in an hour. You'll learn how to apply massage and stretches, use the stick, and wrap the foot with a towel in the traditional style. You will also learn about the history and context of the massage, along with guidelines on contraindications and precautions. Assessment is ongoing throughout the course and you will be issued with a certificate at the end of the training. 
Entry requirements
No previous qualification is required. However if you intend to practise professionally in the UK and require certification, you should have a recognised level 3 qualification in massage or reflexology, including Anatomy & Physiology. 
Cost 
£155 per person or £280 if reserving two places at the same time. Cost includes the rosewood stick for you to keep, a small bottle of massage oil/wax and a workbook.
Class numbers are limited to ensure individual attention.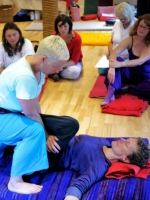 Shiatsu & Thai Massage Training Scotland offer a variety of courses in traditional eastern therapies and also Well Mother pregnancy specialisations for therapists and midwives. This particular course is taught by Lesley Lewis of Heart and Hara Therapies.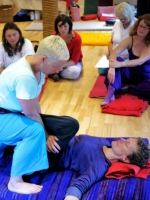 Hosted by

Shiatsu & Thai Massage Training Scotland