>

Mini Thai courses – Thai massage for everyone
Mini Thai courses – Thai massage for everyone
15th February 2020, 1.30pm - 4.30pm
STMTS, 94 Hope Street, Glasgow, G2 6PH
Come along and learn how to give a relaxing Thai yoga massage to bring ease to the mind and body, both for the giver and the receiver! 

Lesley Lewis will lead a short meditation and warm up to get us in the mindset for relaxing touch, and then show you techniques that will benefit your family and friends, including some Thai yoga moves.

This two and a half hour workshop is fun and accessible, fully clothed, no previous experience necessary, and you don't need to be super fit, just agile enough to kneel on the floor. Come with a friend or on your own, relax and enjoy!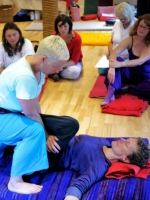 Thai Massage Training Scotland offer a variety of courses in traditional eastern therapies and Well Mother pregnancy specialisations.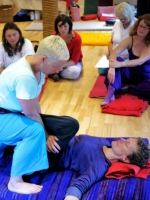 Hosted by

Shiatsu & Thai Massage Training Scotland