Baths as self-care: A relaxing ritual
You might be familiar with the words, "Self-care is more than just scented candles and bubble baths." Or words to that effect, anyway. And it's true, self-care is so much more than that – it's a toolkit that's unique to each of us. 
For some, that toolkit might include meditation or yoga, whilst for others, it might be eating well, getting enough sleep, or moving more. But for many of us, there's an undeniable magic about baths that makes them a brilliant tool for self-care.
Not only can a bath bring peace to quieten our minds, but it can also allow us to give our bodies a well-deserved rest, too. With just a few simple ingredients, you can transport your mind elsewhere and relax your muscles, creating a haven in your own home.
And there's evidence to support these benefits, too. Research shows that having a warm bath can lower your blood pressure while also increasing your heart rate. It's what creates that sense of peace and calm.
If that's not enough to convince you to add baths to your self-care toolkit, here, the Therapy Directory team share their bathtime routines to achieve ultimate relaxation.
---
Tia, Editorial Assistant
For me, a bath is the perfect way to relax and recharge after a long day! A weekly bath is an essential part of my self-care routine. But, if I'm feeling under the weather or a little stressed, I might have more than that.
I love putting on a chilled-out playlist, adding a lovely smelling bubble bath, and letting my worries melt away.
Kat, Senior Writer
I usually have two baths a week, one on a Sunday to help me feel recharged and ready for the week ahead, and one on a Wednesday evening as a mid-week treat. I would say they are a key part of my self-care routine.
A bath gives me some much-needed space and time to fully switch off from the outside world.
I always spray a relaxing aromatherapy spray and, if it's been a particularly hectic week, I may bring a glass of red with me too! My must-have product would have to be my aromatherapy spray, it's the Total De-Stress MoodFix Mist by Tisserand and it makes the whole room smell like a spa.
I usually bring in my laptop on a stool so I can watch YouTube videos. I tend to watch beauty or lifestyle videos because they feel oddly relaxing and like a slice of escapism – exactly what I want when I'm in the bath.
Claire, Head of HR
I'm a bath person. I take a bath every evening, always have done (unless I'm in a rush and going out… which doesn't seem to happen nowadays!). I love them. It's where I unwind each evening. 
I sometimes burn a candle, but my essential product is bubble bath. I dim the lights (I wisely invested in smart bulbs) and then I will either read or watch TV on my iPad. Ultimately, it's a calming room to just be in the moment.
Bonnie, Senior Writer
I 100% prefer baths to showers, so I love including them as part of my (almost) daily regular self-care routine. I like to splash out a bit on nice bath salts and bombs. I love this black pepper, rosemary and sea salt blend that uses essential oils and just smells amazing; it's really relaxing and goes a long way.  
Like most people, I love a good Lush bath bomb too, but I'm not such a big fan of the price. I try and stock up when they have a good sale on, so it can still make baths feel luxurious and relaxing, without the guilt of spending a fiver on a single bomb.
Bathtime is podcast time. My current faves are Aaron Mahnke's Cabinet of Curiosities or the My Favorite Murder (comedy true-crime) podcast. It could be true crime, strange mysteries, self-help, general knowledge, or fiction – I've got a list I shuffle through, depending on what I'm in the mood for. 
That way, I've got a set time to relax in the bath without wasting the whole evening, as most episodes are around 30-60 minutes. It feels like much more active relaxation for me than sitting down with Netflix or Youtube.
Jay, New Business Development Executive
I have a bath every one or two weeks with a very simple routine; water as hot as I can possibly handle and Epsom salts. And it's only ever in the evening – it really helps me fall asleep after as my muscles are super relaxed.
I either read on my Kindle or listen to a podcast, usually something relaxing like The Moth or stand-up comedy. Anything that I can unwind to and that stops my brain thinking for that period.
It's escapism within my own house. I think it's great alone time with some self-care thrown into the equation.
Kathryn, Head Writer
I take a bath almost every single day, and they're a vital part of my self-care routine. When I moved out on my own, after a bedroom, a kitchen, and a lockable front door, the thing at the top of my list for a new place was a bath. 
For me, my bathtime routine is about showing myself deep love, care, and appreciation. It's about reclaiming my time, slowing things down, and indulging in myself entirely.
I go all out, it's a real ritual for me. I have several different bath foams, or sometimes I might use bath oil. All of my products use aromatherapy principles, so I chose what to use depending on how I'm feeling that day. I also have candles lined up on my windowsill and one on my bath caddy. All of these are lit before I get in the bath, night or day. 
As the bath is running, I take off my make up and put my hair up – at that point, the smell of the bath products is already in the air and inhaling the steam is the first step to immersing myself in the experience. Once I'm in, I have a line-up of essential oil blends, which I rub into my palm, inhale, and then press into my chest.
On a Friday and Saturday, I have a glass of red wine with my bath. On Sundays and throughout the week I have sparkling water or just still with ice in – I love a cold drink in the warm bath. I actually have a dedicated 'bath snack' bowl, which I usually fill with olives or another savoury snack.
If my day has been particularly stressful and I've got a bit of a headache, I have a cold, gel face mask that is kept in the fridge – and that's incredibly soothing to put on. My bath is on a level with the window in my bathroom, so in the summer I open it up a smidge, take in the breeze, and listen to the sounds of the world outside.
I have bathtime playlists that I have put together for just this occasion. These are perfect for when I'm feeling stressed or worn out. If I have a bit more energy, I might listen to a podcast or Radio 4. Whatever I do have on, my mind does tend to wander – it's a way to work through my feeling that day, pick up on what might still be concerning me, and resolve or bank that for another time.
I use Neal's Yard bath foam, and my absolute favourite is the Seaweed & Arnica Foaming Bath, for the overtired, followed by Olverum's bath oil. I also use Aromatherapy Associates Forest Therapy essential oil blend. This blend is all about harnessing the scents of nature, and inducing that deep sense of calm we find among trees – the perfect feeling to experience from the comfort of a warm bath. 
---
If you need a little more inspiration, read our guide to building the perfect bath or find out how to create a mini Swedish spa at home.
Share this article with a friend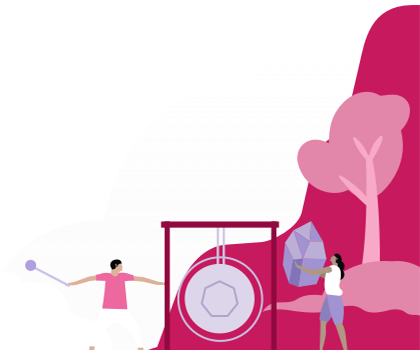 Find the holistic therapist for you