Physiofit Leeds Ltd
Walnut Tree Physiotherapy Centre
The Orchard
Town Street
Horsforth
Leeds
LS18 5BL
Save profile
Email us
Walnut Tree Physiotherapy Centre
The Orchard
Town Street
Horsforth
Leeds
LS18 5BL
About us
Based at Walnut Tree Physiotherapy Centre, Physiofit is a team of highly qualified and experienced Chartered Physiotherapists and Pilates instructors offering a wide range of services. We have excellent facilities at our complex, with disabled access to both buildings and car parking available onsite. We offer treatment for musculoskeletal conditions including:
Sport injuries
Neck pain
Back pain
Sciatica
Whiplash
Arthritis
Repetitive strain injury
Posture related problems
Spinal and pelvic problems related to pregnancy and the post natal period
Women's Health Issues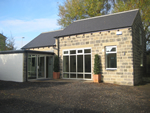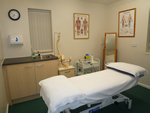 Physiofit Chartered Physiotherapists offer professional assessment, treatment and rehabilitation of a range of injuries and conditions. We have links with local GP surgeries and liaise with other consultants and specialists to provide the best pathway of care for each individual.

We also offer a range of specialist physiotherapy:
Musculoskeletal Physiotherapy
Sports Physiotherapy
Vestibular Rehabilitation
Respiratory Physiotherapy
Women's Health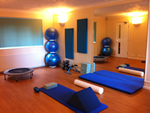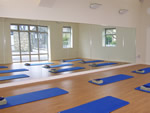 Pilates
Pilates aims to rebalance the body improving posture, strength, core stability, flexibility and balance. Physiofit Pilates targets both mind and body with smooth flowing movements co-ordinated with efficient breathing. We offer 1-1 Pilates as well as small and large group classes including specialist groups such as
ante/post natal
neuro
older adult
rehabilitation
sport
chair based
one-to-one
Training, qualifications & experience
All Physiofit staff are well qualified, experienced and have membership with their governing body.

Physiotherapists - Members of the CSP (The Chartered Society of Physiotherapy). Registered with the HPC (Health Professions Council).
Pilates Instructors - Modern Pilates or APPI (The Australian Physiotherapy and Pilates Institute) trained.
Jenny Heron - BSc (Hons) MCSP
Senior Physiotherapist and Pilates Instructor
Director of Physiofit
Jenny Heron is the Director of Physiofit Leeds which she founded in 2000. Qualified for over 17 years, Jenny has wide experience as a physiotherapist including working full time with professional rugby teams, working with injured police officers, and her time in private practice treating musculoskeletal conditions. With her background in sports physiotherapy and her personal interest in running and cycling, Jenny specialises in the treatment of sports injuries. She combines hands on physiotherapy techniques with Pilates based core stability work and education to enable the patient to take control of their condition. Jenny offers biomechanical assessments of walking, running and cycling to provide detailed video analysis of movement and identify any faults that might contribute to injury. This approach also works well for those with more chronic conditions including neck, back and pelvic pain as well as work related injuries, where analysis of work posture and movement can improve outcomes.
Jenny attained a Post Graduate Certificate in Physiotherapy for Women's Health at Bradford University in 2011, and alongside her training with The Pelvic Partnership in 2005, this enabled her to offer Women's Health physiotherapy. This includes treatment for pelvic girdle pain (PGP, also known as SPD), and for pelvic floor problems in women such as stress incontinence, and pelvic organ prolapse.
Jenny also leads the team of Pilates Instructors at Physiofit Leeds, running regular workshops and training courses for the team as well as teaching classes herself. She works for Modern Pilates as a tutor and course developer.
In any spare time she has Jenny enjoys walking, running, mountain biking and road cycling.


Becky Walker - BSc (Hons) MCSP
Senior Physiotherapist and Pilates Instructor
Becky first qualified as a Sports Scientist in 2000, then went on to qualify as a Sports Rehabilitator in 2003, following this with a Post-graduate Diploma in Physiotherapy in 2010. She has 10 years' experience including working in full time professional sport for 5 years with a professional rugby union team and a premier league ladies football team, as well as her work in private practice.
With this background Becky specialises in the treatment of sports injuries and their rehabilitation. Becky specifically has an interest in the treatment and rehabilitation of the spine, shoulder and knee injuries. She offers kinesiology taping as part of her practice to aid with the kinaesthetic awareness of posture and alignment. Becky has also trained with The Pelvic Partnership to offer treatment for pelvic girdle pain.
Becky offers biomechanical assessments of walking and running which use video analysis to analyse functional movement during activity. She can also develop sports specific rehabilitation programmes after injury, to return the patient to any level of sport or exercise.
Becky qualified as a Modern Pilates Instructor in 2005 and teaches small and large group classes, and specialist ante/postnatal classes.


Stacey Lalande - BSc (Hons) MCSP
Senior Physiotherapist and Pilates Instructor
Stacey graduated as a physiotherapist from Leeds Metropolitan University in 2005. She currently works as a senior physiotherapist and the physiotherapy lead in Rheumatology at Airedale General Hospital. She has wide experience of sports injuries through her 4 years working as Academy Physiotherapist for Leeds United Football Club. Stacey is also qualified in acupuncture and is currently studying for an MSc in Musculoskeletal Rehabilitation at Bradford University.
Stacey trained as a Pilates instructor with the APPI in January 2009 and joined the team at Physiofit in 2009. She combines her work with physiotherapy clinics and teaching group and one-to-one Pilates classes, focussing on rehabilitation.


Suzie Crellin - BSc (Hons) MCSP
Senior Physiotherapist and Pilates Instructor




Suzie gained her BSc (Hons) in Physiotherapy from Northumbria University in 2006 and since qualifying has worked in a private hospital as a musculoskeletal and respiratory specialist physiotherapist working alongside consultants in both outpatients and on wards. During this time she has participated in regular in-service training and also completed several post graduate courses. Suzie specialises in the use of acupuncture as part of her physiotherapy treatment and has completed the AACP foundation course, and further traditional Chinese medicine acupuncture training.
Suzie offers respiratory physiotherapy for various pathologies including hyperventilation syndrome (HVS).
Suzie relocated to Leeds in 2013 and joined the Physiofit Team running physiotherapy clinics with morning, afternoon and evening appointments.


Janet Betts - BSc (Hons) MCSP Post Grad Cert MSK Physiotherapy
Senior Physiotherapist and Pilates Instructor


Janet qualified in 1997 and has over 16 years experience working as a physiotherapist within the NHS. She has gained extensive experience working as a senior clinician within the Leeds Primary Care Musculoskeletal Service, particularly, in the physiotherapy management of spinal, shoulder and knee problems. She has completed a postgraduate certificate in musculoskeletal physiotherapy through Bradford University. Janet specialises in working with patients in the management of longstanding musculoskeletal problems including chronic pain.
Janet has 5 years personal experience of Pilates and has taught at one to one level within the NHS during this time. She qualified as an APPI instructor in 2012 and joined the team at Physiofit in 2013. She teaches small and large group classes and ante and post natal classes. She also offers one to one Pilates sessions to clients to help those who need to manage long term pain and improve function.


Gill Brook - MSc MCSP MACPWH
Specialist continence, pelvic floor and women's health physiotherapist


Gill Brook qualified as a physiotherapist in Edinburgh and has specialised in pelvic floor, continence (including men) and women's health physiotherapy for the past 26 years, working in Bradford since 1992. She currently works part-time for the NHS with hospital in and outpatients, and tutors at postgraduate level for the University of Bradford and the Association of Chartered Physiotherapists in Women's Health. In 2009 she completed a Master of Science degree at the University of Bradford.
Gill has lectured nationally and internationally, written several book chapters, academic papers and articles and been asked to advise the public and media on the role of physiotherapy for people with urinary incontinence.
She is currently secretary of the International Organization of Physical Therapists in Women's Health.
Gill joined the Physiofit Team in 2013 to offer a continence and Women's Health Service at Walnut Tree Physiotherapy Centre.
Therapies offered
Other available therapies
Musculoskeletal Physiotherapy
Sports Physiotherapy
Vestibular Rehabilitation
Respiratory Physiotherapy
Women's Health Physiotherapy
Fees
Physiotherapy
| | |
| --- | --- |
| Initial Physiotherapy Appointment: | £48 |
| Subsequent Physiotherapy Appointments: | £35 |
Specialist Physiotherapy
Vestibular Rehabilitation, Respiratory Physiotherapy and Women's Health

| | |
| --- | --- |
| Initial Physiotherapy Appointment: | £55 |
| Subsequent Physiotherapy Appointments: | £40 |
Sports Massage

Biomechanical Assessments

Pilates
| | |
| --- | --- |
| 6 Week Large Group Pilates course: | £48 |
| 6 Week Small Group Pilates course: | £72 |
| 1-1 Pilates session with Physiotherapist (60 mins): | £45 |
| 1-1 Pilates session with Pilates Instructor (60 mins): | £35 |
Further information
We offer daytime, evening and weekend appointments and classes.

There is full disabled access to both our Physiotherapy suite and Pilates studio.
Important information
If you have been diagnosed with or suspect you may have a pre-existing medical condition you should consult your GP for advice, diagnosis and treatment and always inform your health professional before starting any alternative or additional therapies, treatments or making any major changes in your diet or exercise programme.
Practical details
| | |
| --- | --- |
| Sign language: | No |
| Other languages: | None |